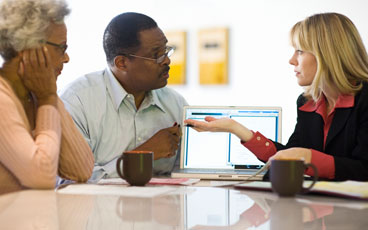 Ask your financial advisor that question and she may think you're funny. After all, what difference does the job status of your financial planner make? Actually, it can make a big difference! The advice and investment knowledge you're receiving depends on it.
If you get financial advice from a bank employee who is paid a salary, they rarely have specialized investment knowledge. They rarely take any responsibility for the outcome of the advice. Often they are on the job for a few years and then move on to other positions within the bank. Sometimes they get out of the banking field altogether.
On the other hand, if you're dealing with a self-employed financial advisor, her income depends on being educated and up to date on the latest information and meeting and exceeding her clients' expectations. This is even more true when you deal with a financial planner who is also an entrepreneur. In this case, they've invested their own money to establish their own business or office. As a result, they're even more committed to retaining clients by delivering a highest level of service and transparency.
Providing the very highest level of value to clients are financial planners who are not only professionals but also self-employed entrepreneurs. Not only are such advisors highly motivated to provide the best service in order to keep your business, as professionals, they adhere to strict codes of conduct, ethical obligations and continuing education requirements.
So the best answer to the question is, "My financial advisor is all three!" I'd be happy to refer you to one of my trusted local financial planner partners, just give me a call today and I'll make the connection!
Your trusted mortgage advisor for life,
Boris Mahovac
905-844-4247
www.OntarioMortgageDeals.com