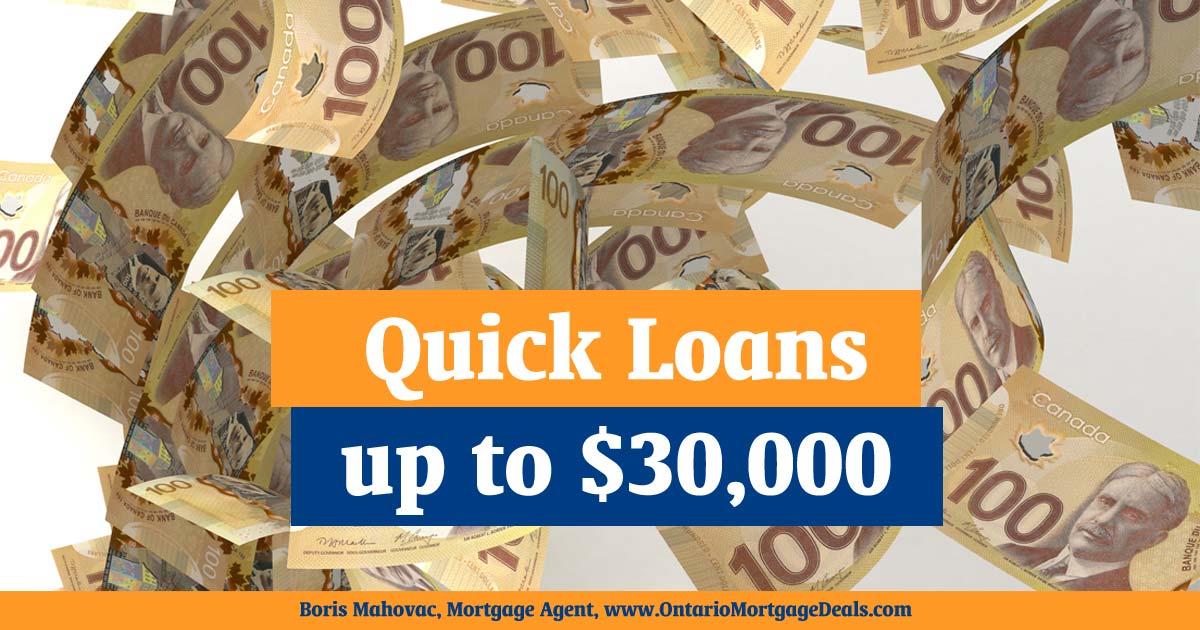 I wanted to let you know about a new quick loan product available to Ontario Mortgage Deals clients that are homeowners in Ontario. It's very easy to apply for! Here are the details:
Loans from $3,000 to $30,000
Cash in your bank within 48 hours
Simple one page application (see below)
No legal costs (save a minimum $1,000)
No appraisal costs (saves you $300-$500)
No up-front fees or costs (no out-of-pocket costs)
Amortized over up to 120 months (10 years)
Fully open: therefore it can be repaid at any time with no pre-payment penalties
Competitive interest rate of 8.99%
This is NOT a mortgage
It doesn't show on your Credit Report – great for repairing your score!
The money can be used for any purpose.
Quick Application - Expect a response in 24 hours or less!
This product can be registered in the 1st, 2nd or 3rd position, but it's not a mortgage, so it's not going to show up on your Credit Report. This is just one of the ways mortgage brokers serve our clients better than banks – innovative products and services!
Who can use this:
AAA borrowers who need a quick loan to pay off credit card debt, vehicle loans, lines of credit, etc.
Anyone who needs to lower their monthly payments (car, credit cards, loans) to qualify for a new mortgage under the new B-20 guidelines.
Clients who need to improve their GDS/TDS ratios.
Anyone with bruised credit, or who wants to do some repairs or renovations to their home, without going through the trouble of getting a line of credit, or secured VISA card.
Please feel free to give me a call, I'd be happy to explain how this works and how it can benefit your financial situation.Call me for more info  Email me for more info
Your trusted mortgage advisor for life,
Boris Mahovac
905-844-4247
www.OntarioMortgageDeals.com