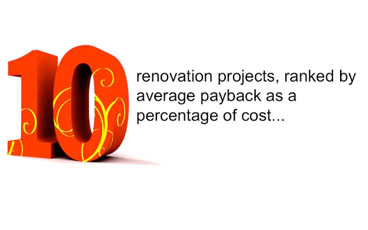 Home renovations can be an effective way to increase your home's resale value. But not all renovations are created equal—and none are guaranteed to repay 100% of their cost.
However, by renovating strategically, you can increase the selling price of your home enough that a significant portion of the renovation costs are passed on to the future owner.
Often, renovating your home is necessary to bring it up to standards of the neighbourhood. Your real estate agent may strongly suggest that without doing these renovations your home would not sell for the best price possible, or may even linger on the market for a long time.
How soon do you plan to sell? The more recent the renovation, the higher the return on investment. So it's best to have a clear idea of your medium-term plans before you decide to renovate.
In this video I present the Top 10 renovation projects, ranked by average payback as a percentage of cost…
Your trusted mortgage advisor for life,
Boris Mahovac
905-844-4247
www.OntarioMortgageDeals.com
P.S. If you haven't done so yet, please "LIKE" my Facebook page so you can continue receiving these cool video tips. Thanks!
P.P.S. After you watch this video, please submit your comments. I love feedback!